We meet our new look community team.
With the news that Megger are set to sponsor Dover Athletic from the Youth Section through to the first team, the Dover business is now branching out into the community with the newly arranged Trust. Jeremy Simpson, who will be chair of the trust, will be flanked by both Deborah and Paul Harrison. Debs and Paul have worked tirelessly behind the scenes at Crabble over the years and now they are looking to help get the scheme back into the public domain having previously existed in its current form prior to Covid.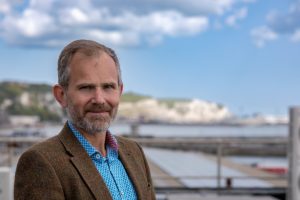 Vicky Pawley will be the clubs new Community Engagement & Inclusion Officer, who will start her post on July 3rd, looking to create new ties within the community and the football club. It's another step in the right direction with the club's main sponsor Megger again at the forefront.
I am delighted that we have resumed the Dover Athletic Community Trust. Our aim is to promote health and wellbeing within our local community, using the physical assets at the Dover Athletic club as a base. This will extend beyond football and I am delighted that Vikki Pawley is joining us as Community Officer to lead our outreach around Dover.  – Jeremy Simpson
So what is the mission statement of the Trust?
To become an integral force for good within the local community, promoting inclusion for all. To make a positive difference to the local community using the connection with the football club to instigate and promote initiatives to encourage participation and inclusion, particularly amongst young people, the disabled, those with special needs, older persons and ethnic minorities. At the same time we will be looking at developing football for women and girls of all abilities.
We will use sports programmes, well-being and mental health initiatives to promote physical and mental health, including well-being within the community. We will look to work closely with other community stakeholders including Dover District Council as well as others who share our common objectives to ensure we deliver key health and well-being objectives.
COYW.