Whites hit by back to back defeats.
The Bank Holiday weekend ended with the Whites facing back to back defeats, and it was a familiar foe that led to our downfall.
The first instalment of this double header saw league leaders Worthing head to town, a team that played some liquid football the last time the two sides met at Crabble in January. With only eight minutes on the clock, Nicky Wheeler thumped in a rasping drive from outside the penalty area to give the visitors the lead. Terrell had no chance as the ball clipped the underside of the crossbar and bounced in. Worthing had plenty of possesion but failed to capitalise anymore in the opening 45 minutes as both teams lacked any real cutting edge.
With just six minutes played after the restart, Sutherland raced through 1 on 1 with the goalkeeper and chipped over him, only for the ball to drop agonisingly the wrong side of the post. It was a real chance and really should have brought the teams level. Moments later and a low cross flashed across goal by Oyenuga was begging to be put away, but there was no one in a white shirt to capitalise.
Mitch Brundle's team poured forward but couldn't quite find the breakthrough with Worthing's backline holding firm. With just eight minutes remaining, substitute Meekuns cut in from the right hand side and slid the ball home to ensure the Rebels left with a 2-0 win.
We set traps and they played into them but that was a hell of a strike. We cant keep a team out for more than ten minutes at the start of a game. I'm disappointed – Mitch Brundle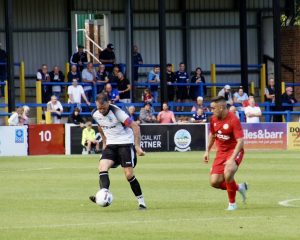 Dover Athletic: Terrell, Charles-Cook, McLean, Naylor, Olarewaju, Dunne, Young, Oyenuga, Allen, Sutherland, Stewart
Subs: Ojemen, Anifowose, Bello, Hatcher, Baptiste
Worthing: Rees, Colbran, Racine, Rye, Vincent, Felix, Wheeler, Aguiar, Odei, Luer, Fish
Subs: Wills, Klass, Chadwick, Luque, Meekuns
And so onto Bank Holiday Monday and another Kent derby. With there being two games in 48 hours the Gaffer decided to use his squad and bring in some fresh legs. It's always a conundrum when you switch your side because if you lose you think you should have stayed with the same lads but hindsight is a wonderful thing in football. In came Ojemen and Sesay for their first minutes of the campaign, while Nikaj, Baptiste and Anifowose were all recalled.
Dartford kept their same eleven from the Saturday's win over Avely as Alan Dowson looked to grab another three points at Princes Park. It was an unusual start to the game with both sides looking a little leggy but that soon changed when George Nikaj cut in from the right and sent his left footed curler inches over the bar. Moments later and the home side had taken the lead. A corner swung in from the right was swept home by James Golding with the Whites failing to clear after a neat save by Terrell.
Immediately after the restart, Billy Terrell was again called into action, this time spreading himself to block a shot when Dartford were 2 v 1 in our penalty area. Players began to tire in the second half and again Dover were undone at a corner when a free header from Lewis Manor flew into the back of the net. Defending set pieces is becoming a real Achilles heel for the Whites in this campaign and it looked to become an even worse day at the office when Olarewaju was adjudged to have handled in the penalty area. Coulson aimed for the top right hand corner but blazes over the crossbar.
You have be forgiven to think that miss would spark a last 15 minute flurry from the visitors but it wasn't to be a shot from Sutherland was parried away to safety by Beeney in the Darts goal. In fact, the only bit of fight the Whites showed was when a tackle by Allen sparked a melee on the pitch with a few players from both sides getting involved.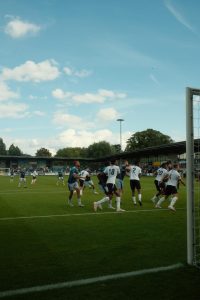 Two defeats on the spin will put an end to August's fixtures in what was a tricky start on paper. The league will start to open up now as we head into the autumn period and there will be a lot more highs and lows to follow.
The performance out there today wasn't one from my team. I wont accept a bad performance. – Mitch Brundle
Dover Athletic: Terrell, Ojemen, Sesay, Naylor, Olarewaju, Oyenuga, Dunne, Anifowose, Baptiste, Nikaj, Stewart
Subs: Sutherland, Wilkinson, Hatcher, Dembele, Allen
Dartford: Beeney, Goulding, Altintop, Block, Miller-Rodney, Rooney, Coulson, Wynter, Bradbury, Nembhard, Manor
Subs: Statham, Box, Wray, Diarra, Allen