We unveil our new kit. 
This season sees Dover Athletic turn the big four zero, as we celebrate our 40th anniversary. And with such a big occasion we have decided to mark it with a special edition kit for the coming campaign. Dover Athletic took over from Dover FC after the club had run into massive debt and were dissolved in 1983. Athletic took over the mantle and replaced Dover in the Southern League and the rest is history, so they say.
There have been some fantastic highs in that period, as well as real lows as the club has continued to play its football at non league level. Some would argue that the golden period for the club was between the 2007-16 seasons when back to back promotions were secured from the Isthmian League to the Conference South (in old money) where eventually Chris Kinnear guided us back into the National League in 2014. The Whites beat Ebbsfleet United on their own patch courtesy of Nathan Elder's thumping header in a 1-0 win.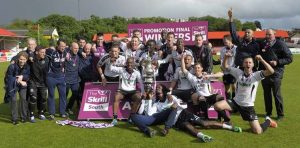 Just two seasons later and the club were in touching distance of the Football League, only to be denied by eventual winners of the play-offs, Forest Green. Chris Kinnear had two separate spells at the club and is arguably Dover's greatest ever manager having guided the club to two titles in his first stint. The first in 1989/90 and the second in 1992/93. The Whites have had their fare share of colourful managers in the past with the likes of Peter Taylor, Clive Walker and Bill Williams, who guided us to within a whisker of Wembley, losing to Cheltenham Town in the FA Trophy semi-final back in 1997/98.
There have also been some magnificent cup runs, most notably in the FA Cup where the Whites have faced the likes of Oxford United, Aldershot, MK Dons, Huddersfield Town, Crystal Palace and who can forget when we went to Gillingham and turned them over.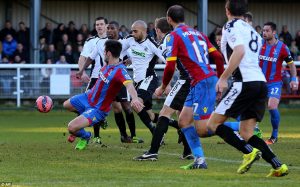 We are delighted to be working with our new kit partner VX3 with our bespoke 40th anniversary kit. – Jim Parmenter
As ever in football, we always look to move forward and what better way than this new edition shirt with the anniversary marking above the club crest.
Sizes and Price:
Adult shirt – £44 available in XS,S,M,L,XL,2XL,3XL & 4xL
Kids shirt – £37 available in 2,6,8,10 & 12 Years
You can now pre-order your shirt by contacting the office on 01304 822373. Once these are available, you will be able to purchase via the website or in the club shop, we assume this to be in June. You can still get your EARLY BIRD season tickets by clicking HERE.
Come on you 40 year old Whites.